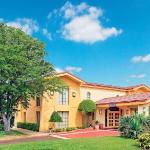 Pet Policy:
Fee: No, Number of pets per room: No Maximum Allow pets in all rooms: All Rooms, Policy on attending to the pet: , Pet can be left unattended in the reserved room with no restrictions., , if the pet is unattended then there will be no housekeeing service Cleaning fee: No, hotel does not charge a cleaning fee Others: Green Space for Walking. none
Book This Hotel
Texarkana Pet Friendly Hotels
We plan to add more related stuff like: pet friendly hotels in Texarkana, dog friendly hotels in Texarkana, dog parks in Texarkana, pet stores in Texarkana, Texas, and pet spas in Texarkana. Keep checking for more!
More Pet Friendly Hotels in Texarkana Texas
Here are other cities with Pet Friendly Hotels
Hoover Pet Hotels
Homewood Pet Hotels
Chamblee Pet Hotels
Evergreen Pet Hotels